Tag:Veer Surendra Sai University of Technology,Burla,Engineering colleges in odisha, engineering colleges in Burla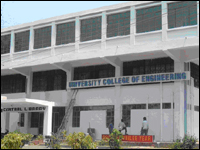 The Veer Surendra Sai University of Technology (VSSUT) Odisha was formed by Orissa Act 9 of 2009 by converting University College of Engineering (UCE), Burla to a non-affiliating Unitary University and came into force by issue of notification by the Industries Department, Government of Odisha from 1st day of July 2009(Vide memo No.IV/TTI-33/2009-8553 and 8564 dtd.10th June 2009. The 1st Statutes of VSSUT, Burla 2010 has been approved by the Odisha Government vide Industry Department notification No.V-FE-II-01/2010/8697 dated 21st June, 2010. This State Government University is also recognized by University Grants Commission (UGC), New Delhi vide UGC letter No.. F.9-36/2009(CPP-I) dtd.5th Jan 2010. The University is empowered to award degrees as specified by the UGC under section 22 of the UGC Act. The University has been declared eligible to receive central assistance under Section 12B of the UGC Act vide letter F.No.9-36/2009(CPP-I/PU) dated 8th November, 2012.
This legendary University is named after Veer Surendra Sai, the great Indian freedom fighter who was born on 23rd January 1809 and sacrificed his life fighting against the British and died in obscurity in Asirgarh Jail on 28 February 1884. In a University where so many young scholars have come to build their lives, Veer Surendra Sai is a perfect role model for our professionals in making to dedicate their life to the cause of motherland. The University continues to feel proud for this real life hero.
Situated at the foothill of world famous Hirakud dam, the early history of the University is a fascinating chapter in the story of technical education in Odisha. Established on 12th Aug. 1956, at Burla in the name of University College of Engineering (UCE), the first engineering college was functioning as a constituent college of Utkal University, Bhubaneswar. The primary objective was of establishing the engineering college is to produce engineers who can manage Hirakud Dam.
The University occupies nearly 300 acres of prime land in Burla. Indeed, the contribution from the Irrigation Department of Odisha was the decisive element in determining the location of this University.
Burla is located at 21°30′N 83°52′E21.5°N 83.87°E. It has an average elevation of 173 metres (567 feet). The town lies at one end of Hirakud Dam which is located around 2 km north-west of the town. The Jawahar Minar offers picturesque views of the dam, the lake and the surrounding forests of Barapahad (12 hills). At the otherside of the dam is the township of Hirakud.
The Burla town is piquant and truly a university town as it hosts the Sambalpur University, the VSS Medical College and the Veer Surendra Sai University of Technology, Burla, besides numerous schools and colleges. It is the most ideal place for learning and to achieve one's priviledged dreams. Burla is well connected to Bhubaneswar, Jharsuguda, Raipur and Kolkata with roads and railways. Burla is only 10km away from Sambalpur by road and railways.
In 1956, UCE started with 20 students enrolling into 3 branches, namely the Civil Engineering, the Electrical Engineering and the Mechanical Engineering. Subsequently, UCE got transferred to the administrative control of Sambalpur University in January 1967 and later on to Biju Patnaik University of Technology (BPUT) by BPUT Act-2002 in July, 2002.
With a glorious history stretching back over 55 years, providing technical education within a modern educational environment and strong academic staff, VSSUT is strongly identified with engineering education in India. Since its inception and foundation, VSSUT has constantly lead the way in reform movements, taking pivotal roles in the reconstruction, modernization, and administration of the society. The University has a strong alumni base, most of them occupying coveted positions in many educational, industrial and research organizations all over the world.
The efforts and expertise of VSSUT graduates have been major contributors in the planning and construction of Odisha's infrastructure.
VSSUT provides its students with modern educational facilities while retaining traditional values, as well as using its strong industrial contacts to mold young, talented individuals who can compete in the global arena. The aim of VSSUT is to rank among leading universities globally. Consequently, VSSUT's mission is to educate individuals to be competitive not only in India, but all over the world. Within an intensely competitive environment, the University has adopted a dynamic, global, high-quality, creative and communicative approach in education, as well as research and development.
Keeping abreast with modern developments, VSSUT is constantly restructuring itself and renovating its physical infrastructure as well as its research and education facilities. Facilities in laboratories of various departments and central facilities such as Computer Centre, Library, Internet Centre and workshop, separate hostels for boys and girls, conference hall, recreational amenities and other utility services are adequately available for the students in the Campus. Semester system is being followed for both Undergraduate and Post graduate programmes. Medium of Instruction and teaching is English. The syllabus is updated at regular intervals keeping an eye to the advancements in technology and need of the industries so as to maintain the level of technical education at par with other institutes of international repute. The University has infrastructures for all the indoor and outdoor games.
The following academic programmes are available at VSSUT
Bachelor of Technology (B.Tech)
Bachelor of Architecture (B.Arch)
Master of Technology(M.Tech)
Master of Science(M.Sc.)
Master of Philosophy (M.Phil)
Master in Computer Application(MCA)
Doctor of Philosophy(Ph.D.)
Admissions to various B.Tech. and B.Arch. programmes are done from the merit list published by JEE Main. Admission to various M.Tech. , M.Sc. and M.Phil programmes offered are conducted by University. However, the students to B.Tech (LE) as well as MCA Programme get admitted through Orissa Joint Entrance Examination(OJEE) conducted by Government of Odisha. All the engineering courses of the University are AICTE approved. The University has a QIP Centre for Ph.D. programmes in engineering disciplines. The University admits full time Scholars to the Ph.D. Programmes in Engineering disciplines as well as in the field of Applied Sciences.
The Training and Placement section plays a very important and key role in counseling and guiding the students of the University for their successful career placement. More than 50 reputed National and Multinational companies visit VSSUT for campus recruitment annually. 100% of the students secure job offers before they complete their programme of studies and leave the University. The placement section ensures and takes care to provide the best arrangements and hospitality for the visiting companies' officials. Further, students of this University are doing extremely well in national level examinations like GATE, CAT, MAT, XAT, GRE, TOEFEL, IES and other competitive examinations.
Contact:
VSS University of Technology
Burla, Sambalpur, Odisha, India-768018
PH: (0663)2430211
Fax: (0663)2430204
website: http://vssut.ac.in/