DAV Public School, Chandrasekharpur was established on 4th August 1989 at Sailashree Vihar, a residential township in the northern part of Bhubaneswar, the State Capital of Orissa. It is well connected by Road, Rail and AIR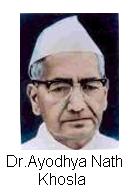 Swami Dayanand Saraswati, the great saint was born in 1824 in the village Tankara in Gujarat. He was a great reformer and path maker of modern India. He founded the Arya Samaj  His ideals of social reform were accepted videly  all over the country. His call to go back to the Vedas for reconstruction of the country  were the basis of DAV Movement in the country.
Mahatma Hansraj established the D.A.V. College Trust and Management Society on 31st January 1886 after the death of Swami Dayanand. It is now the oldest and biggest non-governmental educational organization in India. It covers broadly the entire spectrum of educational activity in the country. The society has developed a chain of institutions from Kashmir to Kanyakumari and from Manipur to Rajasthan with a view to meet the demand for enlightening and progressive education based on the requirements of contemporary times with emphasis on values of life. It includes over 750 public and aided schools, colleges in the faculties of Arts, Science and Commerce, Education , Law, Technology, Ayurveda, Medicine, Pharmacy & Management, It has completed one hundred and twenty two years of its academic services. Apart from providing the traditional value education, it has also contributed to the society through the establishment of Hospitals, Libraries and Research Centres.
Dr. Ayodhya Nath Khosla, took the initiative to start the DAV Movement in Orissa in 1968 when he was the Governor During his tenure, he initiated several schools of DAV Society in the nook &corner of the state to spread literacy.
Birth of DAV Public school
Chandrasekharpur.The dream to build a school for providing quality education in Orissa was seen by Engineer Birendra Chandra Patnaik, the Present Chairman, School Managing Committee. It has got the shape of reality within a span of 18 years due to the untiring labor and dedication of Dr. Keshaba Chandra Satapathy, the Principal of the school.
Regional Director Odisha Zone-II
Principal D.A.V Public School Chandrasekharpur,Bhubaneswar-21
He has been bestowed upon numerous accolades in different platforms for his exemplary contributions towards the field of academics and social services.
Dr. Keshaba Chandra Satapathy
(M.Sc., B.Ed, LLB, Ph.D. CCA)

PGT Chemistry & Head of the Department of Chemistry

She teaches Chemistry in Std. XI and XII.. She co-coordinates all the academic and non academic activities of the school.

Ms. Indira Bhattacharya
(M.Sc., B.Ed)

Supervisor (Senior Secondary Section)

PGT Maths

Std. XI and XII & Head of the Department of Maths.
Teaches Mathematics in Std XI and XII, Supervises all academic and non-academic activities, works for enhancement of performance of students in Board Exams. The success of our students at the Board exams over the years is attributed to the planning and executing ability of him and the endeavors of his team members.

(M.Sc.(Math) ,M.Phil(Math), B.Ed )

Academic Supervisor 

TGT Biology

Teaches Biology in std IX and X . She supervises all academic and non-academic activities of Secondary Section Students. Our school has achieved incredible success in Std X Board exams over the years under her guidance and the dedicated efforts of the team members.

Ms. K. J. Begum

M.Sc., B.Ed.

Academic Supervisor(STD-IX-X)

PGT English
Teaches English in std-X to XII . Supervises all academic activities  Secondary Sections. .

Ms. Niharika Gantayat

M.A., M.Ed.

Supervisor (Std VI-VIII)

TGT. Geography
He teaches geography in Std X and looks after the academic programme of Std V to VII .He plans for all curricular and co-curricular activities of students in this section assisted by his team.

Headmistresses  (LKG – Std. V)

 TGT History
Teaches Social Science in Std. X. She is in-charge of curricular and co-curricular activities of LKG to Std V. Assisted by Pre-Primary and Primary teachers.

FOR NEW ADMISSIONS 2015-16